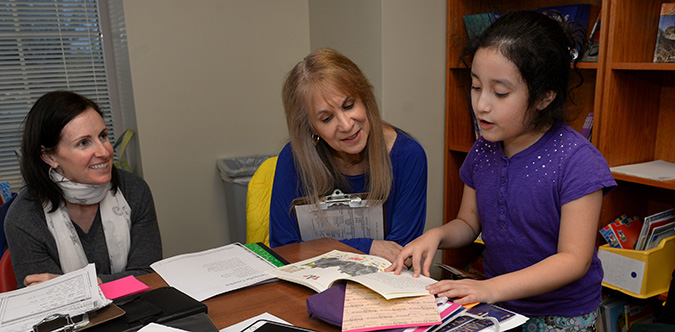 Sacred Heart University's Student Success Center becomes a literacy hub many afternoons when students seeking their reading certification work with youth in SHU's Horizons program.
For eight years, participants in SHU's reading certification program have been tutoring K-12 students from greater Bridgeport's public and parochial schools in a clinic known as Book Ends. The tutors are public school teachers looking to become certified remedial reading specialists. They need 60 hours of clinical experience to fulfill program requirements, and the clinic allows them to gain certification while helping Bridgeport youth perfect their reading skills.
Karen Waters, SHU's program director for literacy, said Book Ends was developed in 2008, and the idea of bringing Horizons' students on board came about two years ago. "We aligned with their mission," Waters said. "We thought we could join forces, and we did."
Horizons was founded to address the academic achievement gap that exists between children from struggling and underserved communities and their more affluent peers. One of the main goals is to develop highly educated and talented young people. The program has grown over the years and offers children academic help as well as social and emotional enrichment.
"All of our youth, regardless of where they are starting on the socio-economic ladder, need the opportunity to achieve and contribute to our future," said Jeff Rumpf, executive director of Horizons. "We were looking for places to provide opportunities for our students. We see value in this."
Many children in the Book Ends program know each other from various Horizons activities. Some have been to Book Ends before and continue to benefit from the tutoring.
On a recent Tuesday, when the school day came to an end, students from grades one through five arrived at the Student Success Center, where their tutors were waiting for them. Each tutor was assigned a student at the beginning of the semester and will work with that student for 12 weeks, Waters said.
Students took off their backpacks and jackets, went to storage cubes to retrieve snacks and got to work. Tutors talked about what they were going to do that afternoon, made lists and retrieved markers, paper and white boards from big plastic bins. The room filled with chatter as tutor-student pairs discussed books, sounded out words and laughed at silly storylines.
Waters said many children at the tutoring sessions are reading one to two years below grade level. "The idea of this is to pinpoint individual areas of weakness," she said. "Program participants will design intervention plans to address student needs."
Children already have made literacy gains over the past several weeks, like one Horizons student who has been working with Lacey Killian, a fourth-grade teacher at Long Hill Elementary School in Shelton.
"She's progressing so much," Killian said about her student. "She's really doing well."
Killian said she loves being able to help a struggling reader. Having one-on-one time with a student and diving into a variety of literacy areas benefits them both, she said, and Book Ends provides a comfortable atmosphere.
"Horizons' strong education and enrichment programs help students overcome their many challenges and succeed," Rumpf said. "Sacred Heart is the best place I can imagine to run Horizons; its community of caring students and faculty, along with excellent facilities, make us a leader within the Horizons movement nationwide. Together we are not only solving the problems of the inner city, we are developing the future leaders in Bridgeport and beyond.
---
Comments: