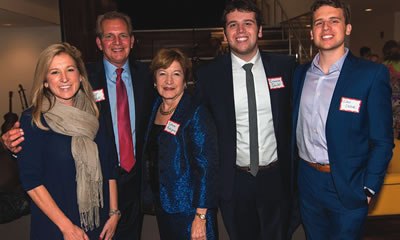 FAIRFIELD—Ruben and Grace Rodriguez are the recipients of the Horizons at Sacred Heart University program's first-ever Horizons Leadership Award. The award was bestowed at the program's second annual gala on April 22 at the Frank and Marisa Martire Business and Communications Center at SHU.

In accepting the award, Grace Rodriguez said she and Ruben had fallen in love with the program and its students during a visit to Sacred Heart more than a year ago. Ruben passed away on May 5, 2016 but, as Grace noted, Ruben was certainly with them in spirit. She shared with the students, their families and those gathered that she and Ruben had come to the United States from Cuba in the 1960s to escape the Fidel Castro regime and became American citizens. The couple found success—he as CEO and chairman of Bacardi and she as manager of Westport Bank & Trust—through hard work in their studies and their careers and through their faith, she told the students. She was joined at the gala by her two daughters, Grace and Susan, and her extended family.
"We chose to honor Grace and Ruben because of the wonderful example their life provides for our students and their families," said Jeffery Rumpf, executive director of the Horizons at SHU program.
Approximately 200 attended the gala, and a record amount of money was raised that will directly support the Horizons at SHU program. Horizons at SHU is a tuition-free, academic summer enrichment program serving students who reside in the City of Bridgeport. Together, Horizons National and Sacred Heart University are helping Bridgeport students close the urban-suburban achievement gap.
Now in its sixth year, the program began in 2012 with 32 rising first- and second-grade students. Each year since then, a new class of rising first-graders has been added. The students remain with the program, which includes six weeks in the summer and 10 Saturdays during the school year, through their senior year in high school. This summer, the program will include students from K-6.
The Horizons program addresses summer learning loss, a phenomenon in which students from low-income district schools fall academically behind their peers attending school in middle and high-income areas. The most significant gap emerges in reading and math skills. This contributes to an achievement gap, leaving some low-income kids as much as three years behind by fifth grade. The program not only helps participants improve in math and reading, but also teaches them life skills—in particular, swimming.
The gala featured musical performances by the Horizons students and three-time Grammy Award winner Tom Chapin.
---
Comments: