Board of Directors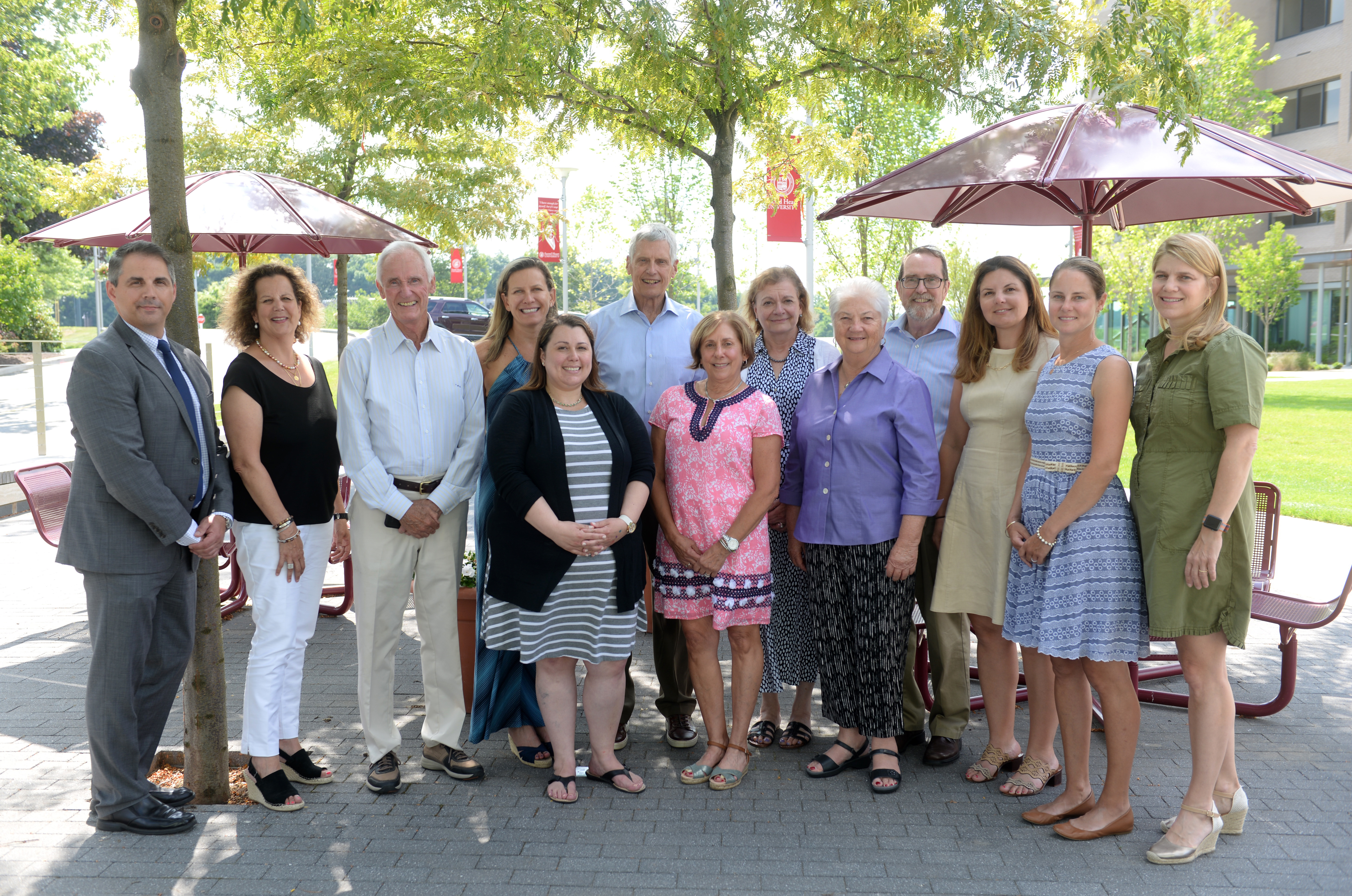 Advisory Board for the Horizons Enrichment Program consists of the following volunteers who come from both within and outside the Sacred Heart University community.
Mary Ann Bunting, CFP, a PWA advisor with Bunting and Somma is a private wealth advisor practice of Ameriprise Financial Services, Inc. Mary Ann is a member of the Board of Trustees at Sacred Heart University. She also works with many non-profits including CT Challenge and the Daughters of the Holy Spirit. Mary-Ann received her MED from Boston College.
Elena Caggiano is a passionate and tireless advocate for children's causes. As a leader, organizer, and fundraiser, Elena is devoted to causes that are near and dear to her heart: children and education. Elena is a member of Christ & Holy Trinity Church, a Cub Scout den mother and President of the Greens Farms Elementary School (GFS) PTA. She currently serves as Vice President of Volunteers for the GFS PTA Executive Board and as chairman of the auction chair for the GFS playground fundraiser, in addition to volunteering as a room parent and ArtSmart coordinator. Elena is a veteran of the fashion industry, where she worked as a sales executive with Polo Jeans, Calvin Klein, and Lucky Brand Jeans. She holds a B.A. in Political Science from the University of California at Santa Barbara and a J.D. from the George Washington University Law School. She and her husband, Marco live in Westport with their two children.
Dr. Patrick J. Carolan, an orthopedic surgeon and principal member of the Merritt Orthopedic Associates in Bridgeport, who serves as chief of Orthopedics at St. Vincent's Medical Center in Bridgeport. He has served more than five years on the Board of Trustees of Sacred Heart University. He is a graduate of UMDNJ –New Jersey Medical School. He lives in Fairfield with his wife, Betty.
Mary Lou DeRosa, MBA, executive director for financial services at Sacred Heart University, is a graduate of the University of Dayton and Sacred Heart University. She has 21 years of higher education experience. Mary Lou is a resident of Fairfield.
Bradford Evans, senior advisor for Morgan Stanley. He is responsible for managing certain client relationships for the firm and advising companies of significant strategic transactions. He joined Morgan Stanley in 1970 and became vice president in 1976. He was elected managing director in 1979 and a vice chairman in 2000. During his career, he has served as co-head of Morgan Stanley's Mergers and Acquisitions department and head of the firm's European investment banking business, based in London. He is a graduate of Dartmouth College and Columbia University and resides in New York City and Southport with his wife, Barbara.
Dr. Thomas Forget, is retired faculty of the Farrington College of Education at Sacred Heart University in Fairfield, CT. Tom began his educational career with high school teaching, and served as an elementary school principal in Yonkers, NY and the Bronx. Tom then moved to higher education, joining the senior administration of Sacred Heart University. He served as the University's Provost and Vice President for Academy Affairs for over a decade. His B.A. is Theology, M.A. is in Religious Education and Ph.D in Educational Administration are from Fordham University. Tom lives in Trumbull, CT with his wife Allison. 12/31/2020
Leah Gambal Alfageme has dedicated her career towards making positive change in the lives of children. From the time she was 10 years old, she has always wanted to work in children's media. Leah earned a Bachelor of Science in Mass Communication and Television from Emerson College. After graduation, she rocketed into a career of working in children's media – developing, producing and directing various different brands and programs. She has worked for Sesame Workshop, Universal Studios and Hearst Entertainment. In 2007, Leah left her position as a Regional Director of Sesame Workshop to focus her attention on her family and non-profit work. In 2015, Leah co-created Access Dyslexia, a non-profit dedicated to building a better future for dyslexic children and their families. Leah is also a trustee at the Lab School of Washington and an advisor for The Southport School, formerly Eagle Hill Southport. Leah and her husband, Santi, reside in Westport with their two children, Santiago and Isabel.
Thomas Graham, President of Thomas M. Graham and Co. a real estate investment firm. Prior to this Tom served as vice chairman of Realty Growth Investors, a real estate investment trust for two years. Tom is a trustee of the Baker Scholars Program at Georgetown and serves on the board of the Wakeman Boys and Girls Club, where he served as board chair for 17 years. He served on the board of the Inner city foundation for Charity and Education in Bridgeport for 15 years. Tom attended Canterbury school and then Georgetown University. He served in the military from 1963-1965 in the 3rd armored division and was a first Lieutenant tank platoon leader in Friedburg, Germany. Tom and his wife reside in Southport. They have four children and 6 grandchildren.
Hobart C. Kreitler [honorary] is the founder of Horizons at Greens Farms Academy, which was established in 1999. He served as board chair from 1999 – 2004 and is a lifetime board member. His past experiences include positions at Westinghouse Electric, Dictaphone Corporation and New Hermes, Inc., where he was chairman and CEO. He graduated from Princeton University and Harvard Business School and lives in Southport with his wife, Sally.
Patricia Makes has been active in Southport and Fairfield for over 24 years. She has served on the PTA, and for 21 years on the board of directors for the Wakeman Boys & Girls Club. She helped to create and develop the mentoring program at McKinley afterschool program and was President of the Wakeman Board of Directors Stratfield satellite. She also served on the board for the Friends of Pediatrics at Bridgeport Hospital. Patti has been involved with the PTA and her church. She and her husband Nick have three children, Matthew, Katie and Nicholas.
Frank R. Mori is President and Director of Takihyo, LLC, a private investment firm headquartered in New York City, where he previously served as Co-Chief Executive Officer. Mr. Mori had previously served as Chief Executive Officer and Director of Donna Karan International, Inc. and Anne Klein & Co., Inc. Mr. Mori graduated cum laude from Dartmouth College and earned an M.B.A. from Harvard Graduate School of Business Administration. Mr. Mori resides in Westport, CT, where his daughter Maggie and his two grown children and their families also live.
James Moye is a Managing Director with Morgan Stanley. He joined Morgan Stanley in 1989 and works with wealthy families in the Private Wealth Management group in NYC. He is a graduate of The Catholic University of America and currently serves on their Board of Trustees. He and his wife, Jeanne, live in Fairfield. He is currently on the Board of Trustees at Wakeman Boys and Girls Club in Southport. He just finished a 6 year term as Trustee of Lauralton Hall Catholic School for Girls in Milford. He also spends time working with the Ludlowe High School boys' basketball program in Fairfield.
Jaime Perri, Executive Director, Horizons Sacred Heart University. She recently served as founding executive director of the Horizons program at The Foote School in New Haven. Before then, she practiced law for many years in Chicago. She has been an adjunct legal studies professor at the University of New Haven since 2009. Perri earned her bachelor's degree in psychology from Western Connecticut State University and her law degree from The John Marshall Law School in Chicago. She also earned a certificate in nonprofit management from the University of Illinois at Chicago. Jaime resides in North Haven, CT.
Angela Pitcher, MS, Associate Registrar at Sacred Heart University. She earned her bachelor's degree in Business Management and her master's degree in Human Resource Management from Sacred Heart University. Angela resides in Trumbull, CT with her husband and three children, who all volunteer in the program.
Graciela Rodriguez and her husband Ruben emigrated from communist Cuba in 1960, to start a new life in the United States. With a solid education, a strong work ethic, and their faith as their core foundation, they both built a fruitful and successful life in their new adopted country. Graciela built a successful career as a Sales Administration Executive with Chanel and Christian Dior Perfumes in New York City, and later held leadership roles with Westport Bank and Trust in Westport, Connecticut. Ruben served in executive roles at Chesebrough-Pond's in Greenwich, Connecticut, and Bacardi Rum Company, based in Hamilton, Bermuda. They raised two daughters, and have five grandchildren. In their retirement, Graciela and Ruben devoted themselves to giving back to the community. With the passing of her husband in 2016, Graciela has dedicated herself to continue his legacy, actively involved and supporting the causes they so strongly believe in. Graciela is a firm believer in education as the key that unlocks the potential in every individual. She is an active parishioner at St.Pius X Church in Fairfield, Connecticut, and volunteers her time to the Horizons SHU program.
Alisa Ryan is the Director of Operations for GIC Informatics, a healthcare informatics consulting firm that provides specialized support in implementation planning, activation and optimization of Electronic Health Record systems. Alisa has over 15 years' experience in marketing and communications. Alisa's work experience includes time at Chanel, Inc. where she was part of the Fragrance Marketing Department. Alisa graduated from Trinity College, majoring in Sociology. During her time at Trinity Alisa was involved with tutoring underprivileged children in Hartford. Alisa is a member of the Fairfield Garden Club where she serves on the board as the Program co-chair and a member of the Southport Congregational Church, where she serves on the Fellowship committee. An avid runner, Alisa is a coach for the Mill Hill School chapter of Girls on the Run. Alisa was born and raised in Connecticut, and lives in Southport with her husband Joe and their two children. The Ryan family is also involved with the Fresh Air Fund, where they have been a host family since 2015.
Finley Shaw earned her Bachelor's Degree in History from Colgate University. After college, Finley worked for Edelman Public Relations and Fleishman-Hillard in New York City for 10 years. Finley currently serves on the Friends of Pediatrics Board at Bridgeport Hospital. She is also a board member of the Fairfield Museum and History Center, as well as the Secretary on the Wonderland Wizards Executive Board. Finley is also the Corresponding Secretary for Sasqua Garden Club. Additionally, Finley is actively involved in her children's schools, Greens Farms Academy and Fairfield Country Day School. She is currently the Co-President for the Parents Association at FCDS. Finley resides in Fairfield with her husband Patrick and her four children (Malcolm, Pippa, Chapman and Beatrix).
Page R. Tremaine is an active member of Southport Congregational Church. She is a former Board member of Trinity Parish Nursery School. She is also an Associate of the Emily Hall Tremaine Foundation and a Committee member on the Learning Differences and Family Engagement Committees. Mrs. Tremaine is married to John M. 'Gean' Tremaine, Jr. Chief Operating Officer at Q-Tran, Inc., a family-owned manufacturing company. Mr. and Mrs. Tremaine reside in Southport, CT and have three daughters.
Sandi Drucker Wright, MA, Director of the Nonprofit Board Leadership Program at the Tamer Center for Social Enterprise at Columbia Business School, is a graduate of Colgate University and Columbia University, Teachers College. She has 15 years of higher education experience and is responsible for leading efforts focused on engaging Columbia MBA students, faculty and alumni with nonprofit organizations in New York City. Prior to joining Columbia, she was in the private-sector at JCrew and Saks Fifth Avenue overseeing online business development and marketing strategy. She lives in NYC and Southport, CT, with her husband Chris and their three daughters.