About
Who we are and how we make an impact.
Horizons at SHU is a tuition-free, non-profit, academic enrichment program serving low-income Bridgeport students in kindergarten through 8th grade. We are a part of the award-winning Horizons National family, which is made up of over 60 chapters and serves over 5,000 students each year. The Horizons affiliate at Sacred Heart University was established in 2011 and has grown to serve 168 students in our K to 8th program. We make a minimum 12- year commitment to all of our students when they enter kindergarten. Each year, our students progress and we accept a new cohort of kindergarten students. The continuity that this multi-year and multi-faceted commitment offers is how we make our greatest impact and change the life trajectories of our students."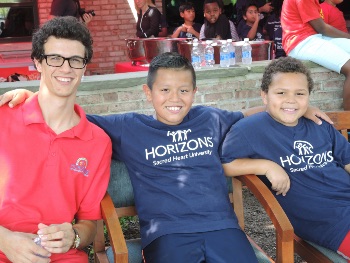 Our Program Highlights Include:
Academics: Providing literacy and math instruction with a 4 to 1 student teacher ratio.
Social/Emotional Learning: Integrating thinking, behavioral, and regulatory skills needed to interact effectively with others, providing the ability for students to make, form, and deepen relationships.
Creative Arts: Developing talent and confidence through music, dance and performance.
Recreation: Learning how to swim, martial arts and gardening.
Partnership = foundation for success
Sacred Heart University's beautiful 311-acre Main Campus serves as an impressive backdrop. Sacred Heart University is a vital partner in our work, providing in-kind use services and giving our students the opportunity to work with graduates handpicked from the University's six outstanding colleges. Horizons students, many of whom are first in their families to step onto a college campus, bear witness and are inspired to set higher goals for their education.