About
Horizons/SHU. Who are we?
Horizons SHU is a tuition-free, non-profit academic enrichment program serving low-income Bridgeport students. The Horizons chapter at Sacred Heart University was established in 2011 within the Isabelle Farrington College of Education and has grown to over 150 students in grades K-6. Currently in the state of Connecticut, there are eight Horizons chapters. We are a part of the award-winning Horizons National family, which is made up of over 50 national chapters and serves over 5,000 students annually.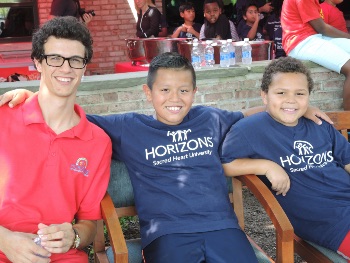 Our Program Highlights Include:
Academics: Providing literacy and math instruction with a 4 to 1 student teacher ratio.
Social/Emotional Learning: Integrating thinking, behavioral, and regulatory skills needed to interact effectively with others, providing the ability for students to make, form, and deepen relationships.
Creative Arts: Developing talent and confidence through music, dance and performance.
Recreation: Learning how to swim, martial arts and gardening.
In all activities, our students learn respect for others and experience the excitement of being on a college campus with caring adults including SHU students, faculty and the President.